WHY PACKAGING IS IMPORTANT

By choosing the Ship To Cycle service, you are aware and accept that the requested transport will be managed in collaboration with our national and international logistics partners, who will perform the shipping service on our behalf, provided that you have carefully packed your bike (both internally and externally).

In any case, the shipper is solely responsible for the correct packaging of the shipment entrusted for transport, in accordance with the applicable regulations on international transport, as stated in the Terms and Conditions of the Ship To Cycle service that you can consult on our website.

The only way to protect your bike from damage during transport, from pick-up to final delivery, is to choose an appropriate, sturdy, and durable packaging and to follow the instructions on how to properly disassemble and pack your bike that Ship To Cycle provides below.

It is also important that the packaging you choose for transport contains only the bike: any accessories must be transported separately (e.g., in your personal luggage). This requirement is motivated both by the need to make the packaging of your bike more manageable and lighter to handle, and to avoid any problems with the contents of the shipment in case of customs checks in transit (where applicable depending on the country of departure and arrival).

If Ship To Cycle finds that you have used packaging (outer and/or inner) that is inadequate for transport and/or the courier reports an anomaly in this regard (during pickup, transit or delivery), indicating "insufficient/inadequate packaging," any claim for damages may be rejected.

It is therefore essential that your packaging is done "by the book" and in any case we ask you to always take the following photos during the preparation of your shipment (keep them as proof of correct packaging in case of opening a claim for damages) attesting to compliance with our guidelines on the packaging of your bike:
Bike before being disassembled, in its original condition;
Disassembled bike with the parts wrapped and separated with appropriate protective material (bubble wrap, nylon, adhesive tape, polystyrene, etc.);
Bike placed inside the cardboard box or bike box (from which the correct internal packaging can be deduced);
Bike box or cardboard box correctly closed at the end of the packaging (showing, for the cardboard box, the correct reinforcement sealing with adhesive tape along the corners), ready for shipment before handing it over to the courier.
WARNING: if you send your bike to countries where there are strict biosafety controls (e.g., Australia or New Zealand), you must clean it carefully before packing it for transport to avoid soil residues or dirt.
SHIP YOUR BIKE WITH NO CONCERNS
We'd like to remind you that you can activate our "Full Protection Insurance" coverage, which is tailored to the door-to-door transport of your bike to give you peace of mind and protection from pick-up to final delivery. This additional premium insurance allows you to ship your bike without fear, as it will protect you in the event of damage, theft or loss in transit, provided it has been properly packed and this has been documented using the photos above. For more information, please visit the Full Protection Insurance section on our website.

If you decide not to activate this insurance, in the event of damage, theft or loss of your bike, the shipment will still be covered by the basic terms and conditions of carriage of the courier involved, however these do not cover the actual value of the bike, but you will only receive a minimum refund based on the actual weight of the shipment (approximately 6.00 euros per kg).
Ship To Cycle, having no way to personally verify the type of packaging you used, reserves the right not to reimburse you for any damage found on your bike due to insufficient and/or inadequate packaging for transport.
TYPES OF EXTERNAL PACKAGING
Ship To Cycle accepts three types of packaging, so you can choose one of these to pack your bike for transport:
Rigid bike box: the rigid bike box, expressly created for safe transport (both by air and road), is definitely the most recommended choice by Ship To Cycle in terms of safety and resistance to impacts and stresses in normal transport conditions by express courier. Follow the manufacturer's guidelines for proper internal packaging and always include additional protection to protect your bike.

Bike box / Semi-rigid bag: The specially designed bike bag, made of reinforced nylon with internal padding and a rigid support base, is suitable for all types of shipments, but is certainly more recommended for air transport. Follow the manufacturer's guidelines for correct internal packaging and always include additional protection to protect your bike. To ensure the protection of the bikes being transported, Ship To Cycle cannot accept bags without a rigid structure inside (e.g., bike cover "socks" or simple nylon bags, usually used to transport bikes by car).
HOW TO ATTACH THE SHIPPING LABEL
SCENARIO 1: If you need to print out the shipping label/proforma invoice and make sure to insert it in a transparent document pouch firmly attached on your bike box.
SCENARIO 2: If you don't need to print anything, ask the driver to attach the adhesive shipping label on the transparent document pouch which you have previously stuck firmly on your bike box.
PLEASE NOTE: The given instructions will need to be followed thoroughly in order to avoid any label losses during the transport.
Carton box: sturdy cardboard box, specially designed for shipping bicycles, made of corrugated cardboard, impact resistant and equipped with handles for handling.

WARNING: if you ship your bike in a cardboard box, make sure it is new, completely intact and without evidence of damage and/or wear and tear, as well as strong and suitable for transporting a bike, and check that it has never been in contact with moisture or water as these factors may have weakened it and therefore made it no longer solid and safe for transport by express courier.
Ship To Cycle cannot provide packaging for your bike, so if you don't have any and are looking for a bike box or cardboard box, please contact your local bike shop or purchase such certified packaging online. In any case, check that it is suitable for transporting your bike, i.e., sturdy and of good quality.
TYPES OF INTERNAL PACKAGING AND PROTECTIVE MATERIAL
Ship To Cycle recommends that you obtain the following protective material to pack your bike before placing it inside your chosen bike box or cardboard box for transport:
Bubble wrap, cloth, foam, polystyrene, foam to cover the bike and fill all empty spaces
Additional cardboard inserts to properly separate bike parts and give extra internal support to the packaging
Strong packing tape
Plastic bags to cover chain / flywheels
Spacers for the fork
Zip ties to fix the padding or to secure the bike to the carrier and prevent movement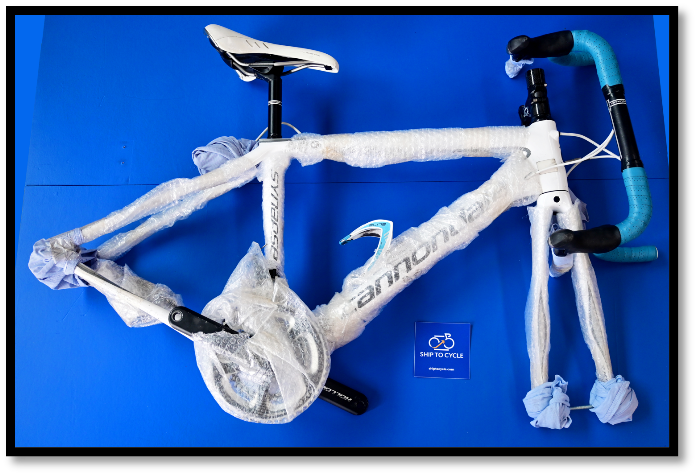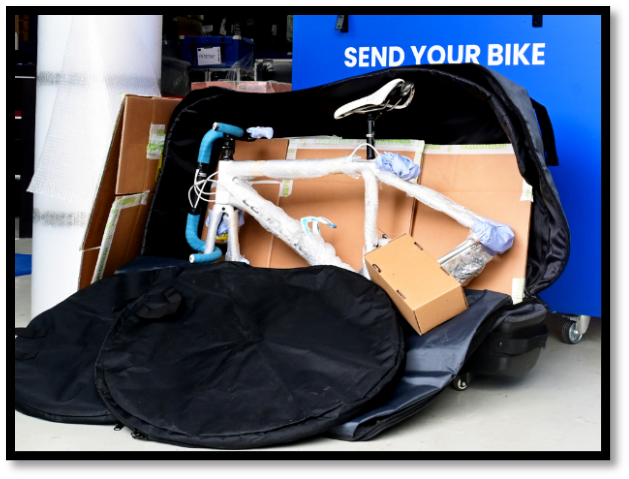 Ship To Cycle provides you with the following instructions regarding the parts of your bike that you will need to disassemble or protect to prepare it for proper packaging in your chosen bike box:
Wheels: If possible, remove both wheels. If you can't, remove the front wheel and secure it to the pedal crank with zip ties, being careful to protect it so that it doesn't stick to the frame and gets damaged. If your bike has a quick release axle, remove it completely from the wheel as the axle can cause damage to the cardboard box if it is left in the wheel. If your bike has a through axle, reinsert the axle into the fork. Make sure that the air has been removed from the tyres. If you have tubeless tyres, it is necessary to partially deflate them to no less than 10 PSI. To prevent fluid from escaping, it is recommended to use bags or plastic to wrap the wheels.
Handlebar: Before removing it, use tape to mark the positions/angle on the frame so that it is easier to reassemble it later, keeping your custom adjustments. Remove the stem and handlebar from the fork stem. Unscrew the Allen keys so that the handlebar part is removed, leaving the fork stem in place. Pay attention to the brake/shift cables. For some bikes it may be sufficient to unscrew the stem and turn it as close as possible to the frame.
Saddle and seat post: before lowering or removing the saddle use tape to mark the height on the seat post so that it is easier to refit it later, maintaining your customised settings.
Front derailleur: If possible, remove the derailleur completely to prevent it from bending or breaking; however, if you are unable to remove it, always shift gears to the largest ring on the chainring. This will ensure that the derailleur is closer to the bike and away from the outer edge of the packaging, preventing contact. Alternatively, protect the derailleur with bubble wrap or foam rubber.
Pedals: remove them and protect them with bubble wrap and/or other protective material, making sure that they are fixed to the frame so that they do not move during transport and so that they cannot potentially scratch the frame or damage other components of your bike.
Various accessories: remember to disassemble from the bike all the most delicate additional elements (e.g., computers, GPS, displays/screens, lights, spotlights, etc.) and in any case do not put them inside the packaging containing your bike shipped with Ship To Cycle.
Also, don't forget to remove any other items, such as mudguards, luggage racks or baskets, and protect them carefully so that they are not damaged and/or cause damage to other parts of the bike during transport.
Lithium battery: if you are shipping an e-bike, check that the battery is securely installed on the bike in its compartment before packing.
Depending on the cardboard box or bike box used, it will be necessary to remove both the front and rear wheels of the bike so that all the other parts can be placed inside the packaging. Clearly consider the fact that transport rates are based on the weight/volume ratio of the packaging; therefore, it is advisable to be able to dismantle your bike as much as possible to reduce the overall size of the outer packaging, in addition to the fact that it is necessary to fall within the size limits for transport imposed by express couriers.
In any case, the manufacturer of your bike or your trusted retailer will be able to assess whether the model in your possession can be disassembled according to our instructions or requires different procedures depending on the type of bike and/or model.
Remember to always store all screws and bolts in a plastic bag, properly sealed, to be carefully attached to the component of the bike to which they belong, preventing these tools from damaging the parts of your bike during transport; this will also facilitate assembly once the bike has arrived at its destination.
HOW TO DISASSEMBLE YOUR BIKE
Once you have finished disassembling your bike, use tape and foam or bubble wrap to cover as much as possible of the frame, fork and other components you have disassembled; be very careful to adequately cover all protruding parts and any carbon components. Put bubble wrap on the inside bottom of the outer packaging to prevent the bike from sliding around and add extra padding to the side walls to reduce the effect of bumps and impacts during transport.
Pay particular attention to the derailleur and if you have disc brakes, insert spacers between the brake pads.
Insert fork spacers or use plastic fork protectors: if you don't have any, you can insert rigid foam between the fork stems.
Add padding to protect the handlebar: to make the bike's profile as thin as possible inside the packaging, clip the handlebar folds around the top tube and secure them with zip ties.
Add padding to the seat post and cover the saddle to protect its material.
If you are using a cardboard box, place the front wheel of your bike on the opposite side of the handlebar and, if possible, insert a piece of cardboard, bubble wrap or foam rubber between the wheel and the frame. Make sure that there is no metal-on-metal rubbing and that the wheel hub does not hit the frame.
Place your bike in the outer packaging and check that there is no possibility of movement of the bike itself and/or any of its disassembled components; if necessary, add extra cardboard sheets in the bike box or box to better insulate the disassembled parts of the bike and to provide more strength to the packaging.
If you want to reinforce the openings of the cardboard box used as handles, you can use adhesive tape, but in any case, you must make sure to tape the corners of the box tightly once it is closed to give it additional strength and resistance during transport.
When you have finished packing your bike, remember to take photos of it in detail, and to highlight any customisation you have done; also, don't forget to photograph the open box or bike box with the bike inside and then the closed box or bike box.
Remember to affix to the outer packaging (using a transparent envelope for documents) any documentation and/or transport labels that will be provided to you by Ship To Cycle.
WARNING: to be sure that your bike is properly protected, check that every part of it is protected with protective material and secured to the frame, so that there is no friction that could scratch the metal parts.
Now that you've followed all of our instructions, you're ready to ship with Ship To Cycle...YOU PACK IT, WE DELIVER IT!